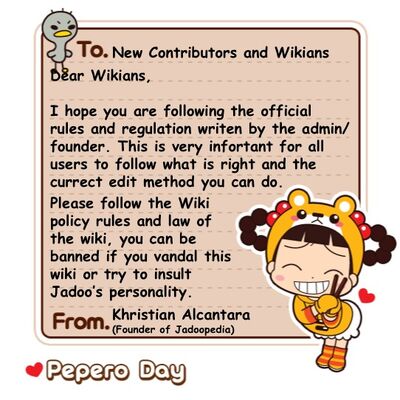 Welcome to the wiki policy. All pages are opened for Wikians who have existed user name and account, while the main page is opened for the founder only. Our founder is Khristian Alcantara and also standing as the admin.
Making a page or editing a article
When editing a page, be sure to put only real information. If are also want to put twist on your edit, like changing colours of your edit. Try to go to Source mode and write the text under the note colour changing is available in

Red

,

Orange

,

Yellow

,

Green

,

Blue

,

Indigo

,

Violet

,

Black

,

Brown

,

Grey

Maroon

and

Pink

.
When making a table info about the character. Follow the standard version of the 

character info. You can set School grade or Occupation depend on the age of the character. One more thing, only the Transliteration Name, Korean Name, Age, Birthday, Gender, Occupation / School grade and First appearance will only be bolded text in the table and try to italic the transliterated name of a character also right the Hangul form on the left of the character. The episode should have a link redirecting to the page about the episode.
The most important category you should before you publish your edit is the category Characters, Females or males and Children characters or Adult. Try to capital the first letter of the page you will create.
English name
Picture of the character
Transliteration Name 
Choejadu
Korean Name 최자두
Age # years old
Birthday mm/dd
Gender Female or Male
School Grade / Occupation​
First Appearance
​Uploading photos and adding videos
When uploading a photo make sure it is .jpg, .png or .gif.
Only upload photos that is relate to Hello Jadoo.
You can upload non-Hello Jadoo as long it is for your user page.
You can upload photo of yourself for only 1-5 pictures only.
Make sure your video is taken from Vimeo, Youtube or Dailymotion.
You can post 1-10 fanart or edit about Hello Jadoo
Commenting or making a forum
Forums are some special question-posting inator where you can post question about the characters, after that some user can help you by answering your question.
Ad blocker interference detected!
Wikia is a free-to-use site that makes money from advertising. We have a modified experience for viewers using ad blockers

Wikia is not accessible if you've made further modifications. Remove the custom ad blocker rule(s) and the page will load as expected.