Minji Gim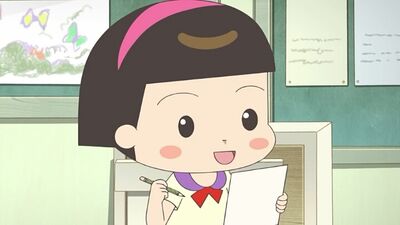 Transliteration name
Gimminji
Korean name 김민지
Age 9 years old
Birthday
Unknown
Gender Female
School level Grade 3
First appearance
Episode 1
She is Jadoo's best friend and she also has 3 cousins and this alias named "Cicada" but the original anime and the comic book.
In fact the Animation discribe her as a Grade 2, She just transfer there.
Appearance
Episode 1 - She remind to Jadoo, that she is dead (Punished) when she get home after she did on her mother and the coins.
Episode 2 - as a cameo
Episode 3 - NO APPERANCE
Episode 4 - She ask why Jadoo is having problem on her tommy, it was reveal last night Jadoo ate too much donut. Later, They both spy on the mysterious kid who hit Jadoo's tommy 2 hours ago.
Gallery
More photos you want? Go to Minji's gallery.
Ad blocker interference detected!
Wikia is a free-to-use site that makes money from advertising. We have a modified experience for viewers using ad blockers

Wikia is not accessible if you've made further modifications. Remove the custom ad blocker rule(s) and the page will load as expected.