Imija Saengnim Seosaeng is known to be Jadoo's teacher. She seems to like Jadoo as a student for she is very clumsy. She always wears a smile and is always seen to be a gentle, loving teacher.
PersonalityEdit
She is a happy-go-lucky person. She is always cheerful even though her students are always quarreling and teasing each other.
AppearanceEdit
She wears a maroon teacher's uniform. Her hair is fluffy and brown and she wears a glasses.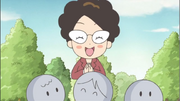 Ad blocker interference detected!
Wikia is a free-to-use site that makes money from advertising. We have a modified experience for viewers using ad blockers

Wikia is not accessible if you've made further modifications. Remove the custom ad blocker rule(s) and the page will load as expected.