Hodol Choe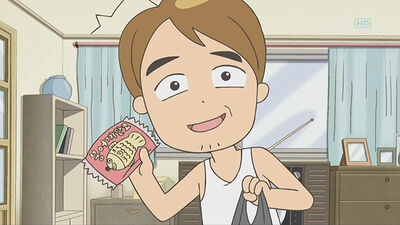 Transliteration name
Choehodol
Korean name 최호돌
Age 40 years old
Birthday Unknown
Gender Male
Occupation Worker
First appearance
Episode 1
He is Jadoo, Mimi and Seong's father and Nanhyang's husband. He is person who dedicate nature of the family.
Aside from Jadoo, Nanhyang always scolding him.
Appearance in episodes
Episode 1 - He also scolded by his wife because both of Jadoo and him won't wake up.
Episode 2 -  Jadoo said that her dad sometimes a little beat hurry and he needs to be in Taxi but he must never see by his wife. In the next day, Jadoo's dad is weird when wearing a tie. He is like to watch Jewelpet Tinkle while his wife is cleaning the floor, for being lazy, her wife scolded him. After that, Her wife is scolding everyone on house.
Jadoo want money from her mother but she only get 100 Won, now she ask her dad to give her a higher money, she was given 1,000 Won... But her mother doesn't want her husband to give Jadoo 1,000 won.
Jadoo's dad got arrive at home and her wife told her why is late for dinner.
Episode 3 - NO APPEARANCE
Episode 4 - as a cameo
Ad blocker interference detected!
Wikia is a free-to-use site that makes money from advertising. We have a modified experience for viewers using ad blockers

Wikia is not accessible if you've made further modifications. Remove the custom ad blocker rule(s) and the page will load as expected.