Ad blocker interference detected!
Wikia is a free-to-use site that makes money from advertising. We have a modified experience for viewers using ad blockers

Wikia is not accessible if you've made further modifications. Remove the custom ad blocker rule(s) and the page will load as expected.
Hello Jadoo / 안녕 자두야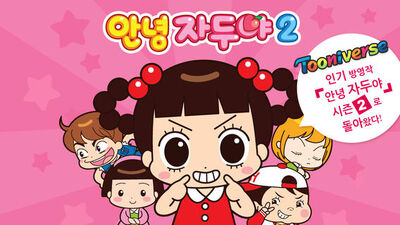 Hello Jadoo
Genre Genuine cartoon and Cheerful cartoon
Writer Yibin (의빈 / Yibin)
Publisher Haksan Cultural history (핰산 쿨추랄 힛로리 / Haksan Kulchural Histori)
Magazine Series Monthly party (만티리 팔티 / Mantili parti)
Installment period September 1997 - October 15, 1998
Turns 18 (April 4, 2013 - present)
TV Animation
Original Hello Jadoo (Yibin)
Planning SBS, Tooniverse and Ah Tunjeu
Producer
And textile and the breed
Screenplay Sangmin Oh (옿상민 / Ohsangmin), Singyu Jeong (정신규 / Jeongsingyu) and Minju Jo (조민주/ Jominju)
Character design Dahye Gim (김다혜 / Gimdahye)
Sound director Jeongah Kim (킴정챃 / Kimjeongah)
Publisher SBS, Tooniverse Animations and Ah tunjeu
Broadcasters SBS (Terrestrial)
Other broadcaster
Original air date July 18, 2011 - December 13, 2011 and May 23, 2012 - August 8, 2011
Spike 40 parts (2 per parts)
Hello Jadoo 2
Original Yibin - Hello Jadoo
Planning Tooniverse Animations and Ah Tunjue
Publisher Tooniverse Animations and Ah Tunjue
Broadcasters
SBS (Terrestial)
Other broadcaster
Original Air September 19, 2012 - present
Spike 60 Part (2 per unit)
"Hello Jadoo" is a Korea's cartoonist Yibin has 1997 September from the " monthly party "on the serialized comic and 2011 and 2012 on SBS , Tooniverse ( CJ E & M TV business sector ), Oh tunjeu is based on this co-production The animation is.
Summary
​Based on actual memories of Yibin cartoonist [1] some of the work created by adaptation to the time jakjung mainly in 1979 (broadly the 1978 - 1980s, early), and baegyeongji the Dongjak- heukseokdong [2] is set to. 2013 March 23 to 18 this current book was published, "Hi mercy be titled" In addition to two-color plate painted with "mom best friend" has been published with the title. For animation in 2010 to second in the four side Tooniverse produced pilot "Hi Jadoo - Mom is my best friend," This work is one of the present work also has not been aired in SBS.
Plot
​This work was in 1978 - 1980 in the background of the early days of the ordinary homes that, brat elementary 'maximum Plum' and that Dad liked to drink. 'choeho stone', jjansunyi Mom 'gimnanhyang', and ttoksunyi sister 'choemimi' Rascal brother ' choeseunggi 'and five delightful and heartwarming story of a family captured. I noticed a charming 100-witted fast, but the 1000 is pretty wacky 'plum' family, friends and experiencing something charmingly slapstick story one sees such a fun and laughter.
Mom and Dad more than anything, to all children and young people with family cartoon that you can see in this work is a big attraction. Television in the 80s with a lid, do not know the name paldeon junk food in front of the school, briquettes or gas for the bittersweet memories of my mother's purse to take out the money in secret honnan remember, mongdang ballpoint pencil into the sack like to mix old vivid memories of those days show such gives viewers an in nostalgia.